3 Heat Pump Problems & Their Solutions
Like every piece of equipment in your home, a heat pump can provide you with a viable way of heating and cooling. And as long as it's generating hot and cool air on an as needed basis, you won't think much about it.
Until something goes wrong.
Heat pumps operate somewhat differently than traditional HVAC equipment. And if you're new to owning a heat pump to condition the air in your home, how do you know what you can fix yourself … and what you should leave to the professionals?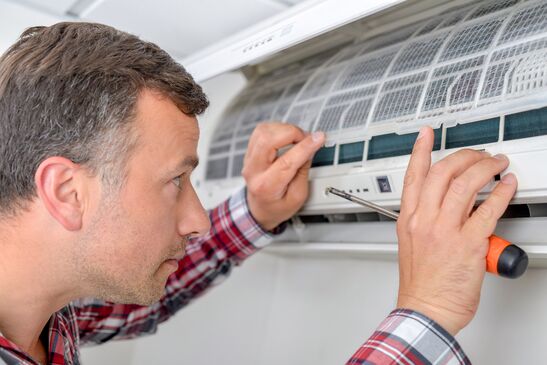 In some cases, there are issues that you can prevent, and problems that are easy to fix on your own. Here are three of the most common problems we see, and the steps you can take before you make a call to one of our technicians to repair your heat pump.
Problem #1: Blowing Cold Air
It's winter time. Nothing feels better than a blast of warm air when you come in from the cold.
Unless the blast of air is cold.
If your heat pump is sending cold air instead of warm, start by checking to ensure your unit wasn't accidentally switched to AC mode. Also, check to ensure your outdoor unit isn't iced over.
If not, your system has a refrigerant issue, a compressor problem, or a faulty valve. It's also possible your heat pump hasn't been serviced in a while, and needs some cleaning and repair work to bring it back into working condition.
Problem #2: Icing Up
Heat pumps may ice up in both the winter and the summer. Depending on when the problem occurs will dictate action required.
In the cold winter months, a heat pump's outside unit endures a variety of conditions. It's subjected to cold temperatures, a build up of frost or ice around the unit, snow build up as storms move in and out. This process is normal; the unit was designed to withstand all of this and more.
But occasionally the unit will go into defrost mode in order to remove the frost. If the top of the unit is covered with a sheet of ice, if the coils are encased in ice, or the entire unit is covered with ice and snow, this becomes a problem. Ice and snow prevent the transfer of heat between the refrigerant and the outside air. And when this doesn't operate correctly, it prevents the heat pump from doing its job.
If this process occurs and the heat pump continues to try and operate, it can quickly damage the unit. And if it happens again and again, it can damage it beyond repair. Ice on coils can damage the sensitive fins and fan blades, and eventually lead to compressor failure.
What to do?
In some cases, the unit may not be defrosting. Under normal conditions, the heat pump periodically turns to air conditioning mode, which heats up the outside coils enough to melt any frost or ice that may have built up over time. If this isn't occurring, ice can build up quickly. If defrost isn't working, it can be faulty relays, controls or sensors. It can also be a bad reverse valve that switches the unit from heat to air conditioning, and back again.
In some cases, it may be the outdoor fan. The fan circulates the warm air and causes the frost or ice to melt away. If the fan is damaged, failing or completely dead, this process no longer works.
In some cases, it may be low on refrigerant. If the heat pump is low on refrigerant, the charge becomes low enough that the system can't produce enough heat to melt the frost and ice.
In some cases, it may be blocked. A lot can change outside. Fall leaves can build up. Water can drip from eaves above. Ice and snow can accumulate quickly around the unit. And if air flow doesn't occur within the unit, it can freeze up and not perform as designed.
If any of this occurs, never use a sharp object to chip away at the ice. This can do more damage to your equipment than the frost and ice. Remove as much of the snow and debris as you can. If this doesn't work, it's time to call in an HVAC technician for heat pump repair.
In warm summer months, icing up should never be a problem. If you have ice accumulating on your indoor unit, there is a problem with your heat pump. There may be a refrigerant leak, a clogged filter, or dirty coils that are keeping the heat from transferring as it should. In all cases, a call to your HVAC technician will clear the problem.
Problem #3: The System Runs Constantly
In some cases, you can find your heat pump constantly running to attempt to provide the proper amount of cold air. You'll often find this happening on those rare triple digit days when you're trying to fight the heat wave by lowering the temperature inside your home. The unit is fighting to keep up with demand. Push your thermostat back up to normal and determine if it's the temperature variance or a problem with the system. In most cases, waiting out the heat wave will improve your system conditions.
In very cold weather, the heat pump can also seem like it's running all the time. Heat pumps do run longer and put out less heat on average than a furnace. Where concern arises is as the outside temperatures increase into the 30s and 40sand your heat pump stays in active mode. This can be a sign of leaking refrigerant, a frozen outdoor unit, or a compressor problem.
In some cases, this can also be a sign of an incorrectly sized unit. If the unit isn't equipped to heat the space, it can run too frequently, wearing out the parts long before their time. It's important to evaluate space size before installing a heat pump. A trained technician can help you evaluate your space and determine the correct size for you.
Do you use a heat pump to heat and cool your home?
---
Related Posts