Duct Cleaning is an Essential Maintenance Project for Homes & Businesses Alike
The air we breathe is critical to our overall health and well-being. This applies as much to the air in the confines of our residences and offices as it does to the air in the outside environment. While outdoor air pollution is governed by a variety of external factors – of which very few are in our direct control – indoor air pollution and contamination are relatively more manageable.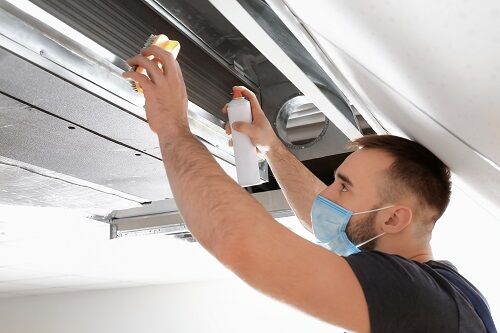 Indoor air pollution has rightly become a topic that more people around the world are becoming more aware of as our immediate environment could be housing mold, allergens, dust, and pollutants.
Your home or office's HVAC system functions almost like the circulatory system of the human body, enabling proper filtration and purification. However, if the air ducts are clogged or choked with dust, infested with vermin, or exposed to moisture which produces mold, they can cause harm to our health.
Moreover, leaky ducts make your HVAC system inefficient energy guzzlers, causing poor indoor air quality. This can be solved by air duct sealing.
Air duct cleaning and sealing becomes an essential maintenance project for homes, as well as for businesses. It is prudent to carry out regular duct cleaning by utilizing the services of a trusted, experienced, and certified HVAC service provider like Entek Corporation.
What is Air Duct Cleaning and Sealing?
Duct cleaning generally refers to the cleaning of the heating and cooling system components of forced air systems. These include the supply and return air ducts and registers, diffusers, grilles, heat exchangers, heating and cooling coils, drip pans for condensate, fan housing including motor, and the air handling unit housing.
Over time, due to improper maintenance, or due to sudden adverse circumstances like dust storms or fires, the above components tend to accumulate debris, pollen or dust. Moisture is a massive problem as well, as it promotes the growth of mold, which in turn can release spores inside your residence or office interiors.
This contaminated air can cause serious allergic reactions and other respiratory issues. Since your HVAC is circulating air within this interior space, the contaminants cannot escape unless cleaned using a professional service.
Air duct sealing, for example the industry-leading AEROSEAL duct sealing, involves blocking furnaces, fans, and grilles and then introducing airborne adhesive particles into your HVAC system. Under conditions of pressure, the particles then attach themselves only to leaks, cracks, and holes in the system.
What Are Signs That Your Home or Office Needs Duct Cleaning?
The United States Environmental Protection Agency (EPA) recommends having your air ducts cleaned in case of substantial mold growth inside hard surfaces, for example, sheet metal. It recommends identifying the causes of the mold growth, if it exists, and eliminating those while conducting duct cleaning. Thorough cleaning is also suggested if your vents are infested with vermin, like rodents or insects, or clogged with dirt or debris to prevent any release of these microparticles into your home or office.
The National Air Duct Cleaners Association (NADCA) recommends that homes or office use duct cleaning services once every three to five years, and in case residents or employees have symptoms of allergies or asthma triggers, an annual duct cleaning operation is recommended. According to NADCA, additional factors, such as pets that shed hair, smokers in the household or among previous homeowners, water contamination of incorrect HVAC installation, home or office renovations, and moving into a new home or office space, should also be considered if you are deciding on duct cleaning services.
What Kind of Duct Cleaning Service Should You Employ?
In general, duct cleaning follows three steps: mechanical agitation to loosen the debris and dirt within your HVAC system, extraction of the loosened debris, and suctioning the debris so that no debris is allowed to enter the internal environment of your home or office. Safe removal and disposal of contaminants from your HVAC is possible.
Our Clean and Seal process is a thoroughly researched and extensively utilized duct cleaning and sealing process. The desire to provide customers with the best service has resulted in a residential and commercial service that has been perfected and shows a positive impact on indoor air quality, increased comfort, and reduced energy costs.
Our highly trained professionals follow EPA guidelines for duct cleaning. They are PCTS and BPI certified for leak testing and internal aerosol mist duct sealing on residential and commercial buildings of any size.
Entek is also trained, certified, and licensed to professionally install AEROSEAL air duct sealing. A special software allows technicians and customers to monitor the inside of the duct to ensure leaky ducts are sealed. This guaranteed method also involves a test report upon installation to verify that your ducts are sealed up to 95%. This technology results in an HVAC system that has higher efficiency, and as a result, also cuts energy costs by a significant margin.
Finalizing a Duct Cleaning Service
Be sure to check all certifications and licenses when finalizing a duct cleaning service as there are many scams on the market that offer cheap, low quality services.
Entek is a member of several organizations that operate on the highest standard of quality and ethics. All representatives carry and should be asked for current membership status for full transparency.
Our three-stage H.E.P.A filtration brings you 99.97% dust-free ducts. All equipment qualifies or exceeds OSHA standards.
The entire duct cleaning process takes anywhere between four to seven hours, and is carried out with no inconvenience to your daily home or office schedules. A free estimate and upfront pricing ensures no hidden costs, and honest, reliable service.
We have seven decades of experience and is well-known as a highly respected and experienced full-service HVAC company. We have been awarded the highest rating by Better Business Bureau and have received the highly coveted Angie's Super Service Award, only achieved by 5% of companies. This is owed to our dedication to service and high quality.
When looking for the best service providers for your HVAC systems, we know you want only the best, and the best is what is provided every step if the way. Contact Entek now for a free estimate from our building science experts.
---
Related Posts