Electric Furnace vs. Gas Furnace: What You Need to Know
So you've decided you want to upgrade your furnace? If you're anything like us, you'll want to make sure you make a wise investment. Upgrading to an energy-efficient furnace could save you a significant amount in energy costs. Newer, energy-efficient furnaces often use up to 30% less fuel and energy than their older counterparts.
But you might be wondering whether you should invest in an electric or gas furnace. Well, you've come to the right place. At Entek, we offer energy-efficient furnaces, including mobile home gas and electric furnace models. We'll discuss each type so you can decide which one is the better option for you.
The first thing you should know when deciding whether to purchase a gas or electric furnace is that there's much more to consider than simply cost. You'll also want to assess its effectiveness, durability, and feasibility of installation.
For instance, while natural gas is the most popular type of fuel, the required piping infrastructure is not available everywhere. If you don't have natural gas lines, it can be cost-prohibitive or in some instances, impossible to have them installed. If you're uncertain of the fuel availability in your area, contact your local HVAC specialist at Entek for assistance.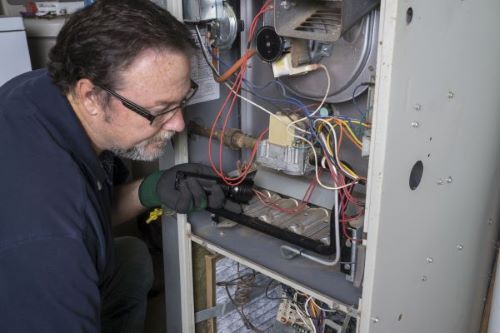 However, cost is still important, so let's discuss it. Unfortunately, on this point, there's no real clear-cut answer. If cost is your main concern, you'll want to consider whether it's more important for you to minimize your upfront costs or save more money over time. Your answer to that question may influence which type of furnace you decide to purchase.
In general, electric furnaces are less expensive than gas furnaces. They are also much less expensive to install. In some instances, installing a gas furnace could be twice as much as the cost of installing an electric furnace. However, electric furnaces cost more money to operate since electricity uses more energy than natural gas. In recent years, the cost of electricity has increased while the cost of natural gas has actually decreased. So, if you're looking to save money in the short term, an electric furnace may be your best bet. But, if you want to lower your utility bill in the coming years, a gas furnace may be your preferred choice.
Both electric furnaces and gas furnaces have advantages and disadvantages. Electric furnaces are typically quieter than gas furnaces, making them less of a distraction in your home. They also tend to be more durable. The average lifespan of an electric furnace is 20-30 years. By contrast, gas furnaces typically last only 15-20 years. Once you factor in the average lifespan of each, your gas furnace may not be saving you as much money over time as you initially thought. In some instances, electric furnaces can last twice as long.
Additionally, electric furnaces are typically quicker to install and more easily maintained over time. Gas furnaces come with the risk of carbon monoxide emission. If you opt for a gas furnace, you will need to have a carbon monoxide detector installed in your home. You'll also want to immediately contact a certified HVAC technician should you notice any problems with the operation of your gas furnace.
However, gas furnaces have many benefits as well. First, they tend to heat your home more quickly than their electric counterparts. They also tend to reach higher temperatures. So, if you live in an extreme winter weather climate and want a furnace that will heat your home quickly, a gas furnace would be the best choice.
In addition to heating your home quickly and efficiently, gas furnaces have environmental benefits as well. Use this residential energy calculator to assess some of the financial and environmental benefits of gas furnaces for yourself.
If you live in a moderate climate, you should also consider using an electric heat pump. Heat pumps are convenient for a number of reasons. First, they provide both heating and cooling for your home in a single system. Additionally, they're more energy efficient than gas furnaces and use less electricity than electric furnaces, making them an attractive alternative option.
When choosing a new furnace, it's important to look for one with an Energy Star label. While older ones operate anywhere from 56% to 70% efficiency, high-efficiency heating systems operate at up to 98.5% efficiency. High-efficiency furnaces are beneficial for both your wallet and the environment. At Entek, we use high-efficient furnaces produced by Carrier. Upgrading to one of our energy-efficient furnaces will cut your bills while also reducing your furnace's pollution output.
Once you decide to upgrade your furnace, you'll want to make sure it's properly maintained. Not having regular maintenance checks performed could potentially reduce your furnace's lifespan. Make sure you contact one of our technicians to regularly inspect your unit and ensure that is in proper working order. The last thing you want is for your furnace to burn out on a freezing cold night!
Need some help making the right decision regarding whether to purchase an electric or gas furnace? Give us a call and we'll be happy to help you figure out which is the right choice for you. In addition to the cost savings of upgrading to an energy-efficient furnace, you may be able to receive some tax credits as well.
If you're not certain whether you need to upgrade yet, contact us for a home visit. Our certified technician will perform a combustion efficiency test to assess the effectiveness of your furnace. We'll then determine the best options for you. The last thing you want is to be left out in the cold this winter. Luckily, we know just how to heat things up.
---
Related Posts