How to Make Your Room Warmer Without Raising Your Energy Bill
With winter just around the corner and lower temperatures already making their debut, it's time to start preparing for the cold weather. Winter is a beautiful season, magical at times, but it's often best enjoyed in the comfort of a warm home. However, heating costs can be overwhelming when it's not done efficiently. What changes do you need to take to increase your comfort this winter? Below are some suggestions for how to make your room warmer without incurring extra costs from turning up the heat.
Is Your Heating System Up to Par?
Whatever type of heating unit your house uses, it's important to make sure it's working at 100 percent so you aren't paying for heat you're not getting. From checking for closed or blocked registers to making sure dampers are open or replacing a filter, there are many different aspects to troubleshooting your heating unit's efficiency. Here are some ways to check for problems before considering calling a professional to inspect your heating unit.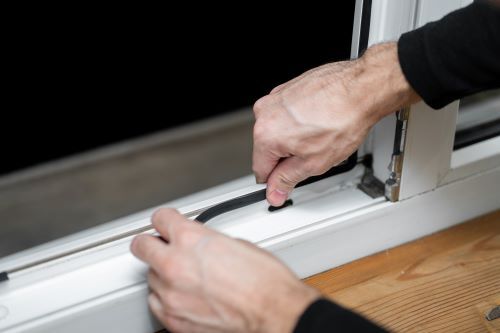 Check for Drafts
After ensuring the heating unit is performing at its best, next it's time to make sure all drafts are eliminated. Confirm windows are closed properly and latched. If you can feel any cold air coming through, you may want to purchase a removable window caulk or plastic to seal them, as you want them airtight.
If the window receives a lot of sun during the day, consider putting up a transparent curtain to cover the windows. It will keep the cold air out while allowing the sun to make your room warmer. For rooms with less sun, put up heavy curtains to block drafts. When those rooms do receive sun, the curtains can be opened to allow the warmth from the sun in. Otherwise, keep them closed.
Keep doors that do not need to be open closed. This will keep the area you're occupying warmer, and check for drafts under the doors as well as along the door frame. Check weather stripping, purchase a door sweep to block some of the cold air, or put a towel at the base of the door.
Insulation
As we know heat rises, so a lot of heat can escape through the attic, check how well insulated your house is. Make sure the attic, crawl space, and walls between the garage and house have plenty of insulation. Insulating the floors can also help, so adding thick area rugs throughout the house will help keep it cozier in your room.
Alternate Heating Sources
Using different methods of heating and utilizing any heat generated is a great way to make your room warmer. A fireplace, wood-burning stove, or pellet stove can be another great source of adding extra warmth to your home. While a conventional oven should never be the sole method used to heat your home, it can be left open a crack to let the residual heat out after baking. Always turn the oven off after it's not needed to cook anymore, and caution should always be taken if there are young children in the house.
While candles and lights don't add much heat, they can definitely help with taking the chill out of the air when added to other methods of making your room warm. Traditional incandescent light bulbs aren't as energy efficient as fluorescent lights (CFLs) but do emit enough heat to be worth turning on. Candles also create light that generates heat, but not as much as lights.
Other Changes to Make
When implementing new ways to make your room warmer, it's beneficial to take into consideration some small changes and habits that won't necessarily add heat but will help it feel warmer, block some of the chill in the air, and help retain the heat.
Ceiling fan
Using a ceiling fan with a reverse airflow, on a low setting, will move the warm air that has risen toward the ceiling and redistribute it throughout the room.
Body heat
Our bodies put off heat when we stay active. This has a double benefit. Not only will staying active and moving put off a slight amount of heat, but it'll also warm you up so the room can be kept at a cooler temperature without discomfort.
Strategic use of sun and wind-blocking
Utilize as much of the natural warmth from the sun as possible. If one side of the house receives more sun, clear anything away from the wall that may be blocking the sun from warming up the outside walls. On the other hand, if there's a side of the home that is regularly getting the majority of wind, try to find ways to add extra protection from the wind, such as trees as a windbreak.
Warmer bedding
Changing to warmer bedding during the cold months will allow you to feel warmer without needing to turn the heat up when the temperature drops at night. Along with warmer bedding, adding a soapstone bed warmer a half-hour before bed can ensure a warm night's sleep. Soapstone holds heat for a very long time, so warming one up in the oven, then wrapping it in a towel, and placing it under the sheets before bed will help keep you toasty through the night. Another option is to add a warm water bottle right before bed for a quick boost of warmth.
Dress warmer
This may seem obvious, but adding layers and wearing socks and a hat to prevent heat loss will make you more comfortable.
Moving the bed away from the window
If there's space, moving a bed away from the window will help you stay warmer throughout the night.
Home Performance
It's obvious how important it is to take preventative measures, and it's easy to see how drafts, lack of insulation, or a heating system not performing at its best can quickly cool down the home and waste money. Getting a home performance test to check the efficiency of your home and fix any weaknesses will not only keep your home warmer, but also help keep the cost of heating down.
Here at Entek, we have certified specialists that can test the energy efficiency of your home. These experts understand all the pieces that go together. They understand building science and can easily maximize heat retention, keeping the cost of heat at an all-time low throughout the colder months.
We service Longview and Vancouver, Washington, as well as Portland, Oregon, areas. If you have any questions about the energy solutions of your home or any other questions about heating or cooling, we'd love to talk to you. Emergency services are available if you need immediate help, and we look forward to working with you to get your home performing at its best.
---
Related Posts