How to Treat Mold in an HVAC System
Mold in an HVAC system can sound frightening, but it's actually more common than you may think. It is an issue that a lot of people face. This is because mold is always present. It's more prevalent during humid weather, and it can become less in drier weather. Because of this, you will never fully get rid of it. However, it is important to properly treat mold in an HVAC system. This is because too much mold can make occupants of the home sick, and it can reduce the indoor air quality dramatically.
Homeowners should know the signs of mold in air ducts. The most common sign is that you begin to smell a musty or mildew-like odor in your home. Other signs can be you or your family members experiencing illness symptoms, such as a runny nose, rashes, nausea, fatigue, dizziness, headaches, or watering eyes. You can be especially confident that it's due to mold in your HVAC system if your nose, throat, and/or eyes feel irritated when you turn your air conditioning on but feel much better when it isn't on.
Are you feeling any of these symptoms? If yes, you may have mold in your HVAC system. Take a look and see if you can see mold growing. It's imperative that you get rid of mold before it spreads and before anyone in your household gets sicker.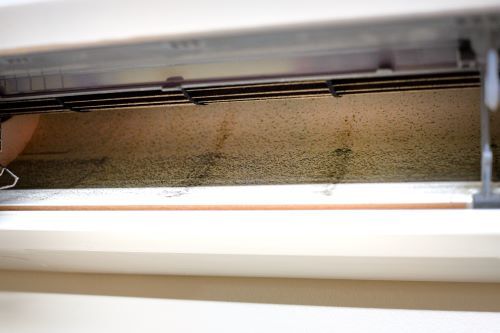 Routinely Inspect Your HVAC System
The first step in treating mold in your HVAC system is to make sure that you are routinely inspecting your HVAC system. When you check it out, don't just look for mold, but keep an eye out for moisture as well. Pay special attention to the drain and condensation pans to ensure they're draining properly and that moisture isn't building up. If they are clogged, the moisture will build up, creating the perfect environment for the growth of mold.
Another thing you should confirm is that the ducts and system components (such as blowers, air handlers, and plenums) are also free of any moisture. By checking all of these things on a regular basis, you will be able to notice any changes in moisture and/or any clogging. This will help you treat mold before it begins to build up and become problematic.
Even if you routinely inspect your HVAC system, it's possible that mold can still build up. If this is the case, you will need to get rid of the mold. Here are a couple of ways to go about that.
Do It Yourself
There are some do-it-yourself ways to remove mold. Some people use home remedies such as saturated bleach—1 part bleach and 16 parts water. Others use a mix of household detergent, baking soda, and water. There are also some commercial mold removal solutions that you can purchase. If you go this route, it's important to make sure that you are buying an EPA-approved mold remover.
Once you decide which remedy you would like to use, it's time to dress for the part. A mask, gloves, and even safety goggles should be worn. This will protect you from the mold but also from the strong cleaning chemicals you are working with.
Now it's time to go after the mold. First, make sure your vents are closed. Then start scrubbing the areas with the mold thoroughly with a brush or a wet rag. This may take a while, as you will see, whether or not the mold is going away. The time it takes will depend on how much mold you have present. Once it's gone, throw out all the rags or the brush you used in thick, airtight trash bags.
If you choose to remove the mold on your own, note that you are exposing yourself to it. This can cause the symptoms mentioned above or other health concerns, even if you do properly mask up. Because of this concern, it's usually a good idea to opt for a professional mold cleaning service.
Professional Mold Removal Services
Not only will choosing a professional HVAC company to come to remove your mold will keep you safe from possible health concerns, but it will also protect your HVAC system. Depending on where the buildup of mold is (and depending on your HVAC system), you may not be able to reach problem areas without taking apart your unit or the ducts.
An HVAC technician, however, will know how to do this properly and be able to put everything back where it belongs. Plus, by hiring a professional service, you ensure a full cleaning. They can remove mold you didn't even see. A professional cleaning will save you time too, as they will be able to complete the work in less time than you would.
Entek Services
As you can see, there are a couple of routes you can take to treat mold in your HVAC system. Even though you can do it yourself, as we explained above, we recommend that you call in an HVAC professional such as Entek. Our team is highly qualified and experienced. We are proven leaders in duct cleaning and sealing, saving the homeowners we work with 20 to 40 percent on utility costs because of it. All of our employees follow EPA guidelines.
If you think you have mold in your HVAC system, reach out to us today, and we can provide you with a free estimate. After an inspection, we can diagnose the problem and provide you with a solution to make sure that you and your family stay happy and healthy. Mold may never fully go away, but we can treat any mold in your HVAC system and prevent it from building up and causing issues in your home.
---
Related Posts