Let's Compare the Best Heating System in Pacific Northwest to Choose for Your Portland Home
There is nothing like snuggling up under the covers and sipping hot chocolate at home while it snows outside on a cold winter night, but what happens when your home is not equipped with the best heating system to get you through the harsh winters? What a pity it would be to not come back to a warm and cozy home!
One of the most important aspects of your home is its heating system. Did you know that space heating is the largest energy expense in the average U.S. household and accounts for around 45% of energy bills? You need to make a well-informed decision because not opting for the accurate one can cost you comfort, money, and energy.
From oil and gas to electric heating and more – there are several heating system options available for your Portland home. Let's take a closer look and compare some of the best heating systems in Pacific Northwest to help you choose the right one that suits your need, space, and budget.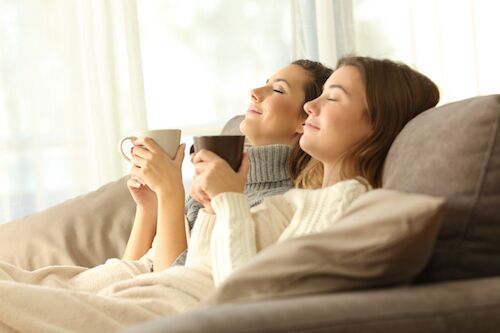 Heat Pumps
Considered to be one of the most efficient heating systems in the world, heat pumps make for a smart choice. Heat pumps run on electricity and transfer heat between the outside air and your home. This means that during winters, heat pumps move heat from the cold outside air and distribute it indoors to warm your home, whereas during summer it moves the heat outdoors and keeps your home cool.
Heat pumps have a dual purpose – they offer heating and cooling solutions. Unlike furnaces, they don't generate heat, operate at a quarter of the cost, and are an energy-efficient option. Heat pumps are an ideal choice for your Portland home because they function best in moderate climates.
There are many variations available in heat pumps such as two-speed compressors that allow heat pumps to operate close to the heating and cooling capacity, variable-speed motors for fans which keep the air moving at a comfortable speed, and geothermal pumps that transfer heat between the ground and your home, among others.
Ductless Heat Pump
Taking heat pumps one step further are ductless heat pumps which promise to provide comfort all around the year. Also known as the mini-split, ductless heat pumps claim to save 25-50% of your electric heating bill.
What's more, with ductless heat pumps, you don't have to get into the hassle of the expensive and time-consuming ductwork that can interfere with your home's aesthetics. Easy to install and maintain, ductless heat pumps offer comfortable, healthy, and quiet heating and cooling solutions throughout the year.
Make sure the ductless heat pump contractors you opt for take into consideration your space and comfort requirements. For instance, at Entek, we offer a complimentary and comprehensive analysis of your house and recommend placing ductless indoor units near the ceiling, low floor, or anywhere away from the line of sight. We also ensure the lines connecting the indoor and outdoor units are meticulously wrapped in a special paintable conduit track as to not ruin your home décor.
High-Efficiency Furnace
The first things that come to mind when one hears the word 'furnace' is the energy it consumes and the unbearable noise it produces. Don't worry, today's new-age furnaces are nothing like the above.
They use 30% less fuel and energy, making them highly efficient while offering you massive savings on electricity bills. They also produce even heating and maintain consistent temperatures.
Furnaces generate heat on their own and use a blower motor to distribute it in your home via air ducts. The biggest advantage of a furnace is that it produces heat irrespective of the outdoor climate. They are relatively inexpensive to install and run on electricity, natural gas, or heating oil.
A lot of people who own heating oil furnaces convert them to natural gas as the latter is safer and cleaner to handle. Electric furnaces, on the other hand, are smaller compared to the natural gas and oil ones and are also easier to maintain. However, natural gas furnaces win when it comes to saving on electricity bills and being the more energy efficient option.
Choosing a Heating System
The heating system you ultimately choose depends on various factors such as the heating fuel available in your region, the climate where you live, efficiency of the product (ENERGY STAR products are recommended as they are known for their quality and efficiency), and ensuring the size of the heating system is adept to heat the entire space.
In addition to installing an efficient heating system, it is also a good idea to install a programmable thermostat to save on those energy bills. As per reports, you will save up to 10% a year on heating and cooling costs with a programmable thermostat in place.
Maintaining a Heating System
You can get the best heating system in Pacific Northwest installed in your home, but maintaining it and getting it professionally serviced every year is extremely important. Regular maintenance can extend the life of your heating system and minimizes efficiency loss.
Apart from removing the dirt and debris and cleaning the filters and other parts yourself, you must also get the entire system serviced by an expert at least once a year. After all, it's better to get it checked proactively instead of waiting for it to stop working and cause further problems. In fact, maintenance twice per year (fall before heating season and spring before AC season) is optimal.
While you may be tempted to investigate and take matters in your hands when it comes to installing or repairing heating systems, it is a complicated process and is best left to the experts.
At Entek Corporation, we have been providing our customers with high-quality heating and air-conditioning services in homes and workspaces for nearly seven decades. So, if you wish to get your home the best heating system in Pacific Northwest, contact us for a FREE estimate!
---
Related Posts