Should I Get an Air Conditioner for Baby's Room?
As the temperatures rise, it's important to have your home feeling comfortable. It becomes even more important when you have small children in your house. When it comes to babies, it's hard to know what's okay to do and what's not. That's what research is for—and that's why you're here.
One thing that people are often torn about is having an air conditioner in a baby's room. Parents are nervous about not having proper cooling in the room, but they're also wary of any side effects that may come with having an air conditioner in the room. So, is it safe to have an air conditioner for the baby's room?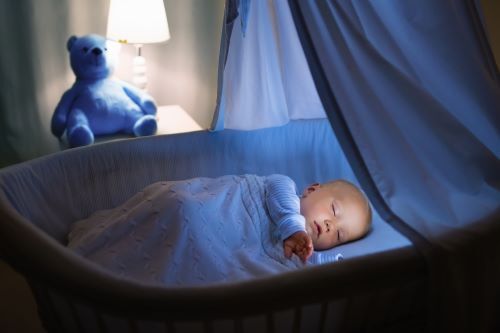 In short, yes. You can have an air conditioner in your baby's room, and your baby can sleep cool and comfortable. They're not immune to the hot summer months so you'll want to make sure they're taken care of. However, there are certain precautions you should take to make sure the baby sleeps safely during both day and night.
Professionals, like our team at Entek, know how important it is to keep your air conditioner in good condition. With the right unit, and the right professionals on your side, your air conditioner can be totally safe for your child's room. Here are a few things you can do to further ensure your child's safety, and you can make sure it's performing efficiently.
Monitor the Air Quality
Air quality is important in any room in the home but especially in a baby's room. The air they breathe should be as clean as possible, and though it may not seem like it, the air conditioner in their room plays a large part in the home air quality. One way you can ensure the air quality is good in that room is to monitor it by keeping an eye on the filter.
The air filter in an air conditioner should be clean and clear of debris. As air is being circulated in a room, items like dust, pet dander, and pollen can get stuck to the filter. The air filter does its job by trapping those things instead of pushing them back into the air, but if the filter remains dirty for too long, it can significantly lower the air quality. To prevent this from happening, you should be changing or replacing your air filter regularly. This will help to keep the air fresh in the baby room, while also ensuring that the air conditioner is working efficiently. It will also prevent your baby from feeling as many seasonal allergy symptoms.
Maintain a Healthy Temperature
The temperature you set your air conditioner to in a baby's room can play a big part in whether it's safe to have one in there. Not having it cold enough can create a humid and sticky sleeping environment for your baby, while cranking it too high can cause the baby to feel chilly at night and uncomfortable. Finding a balance between the two can create an ideal environment for your baby to be in during the summer.
Though every home is different, a comfortable temperature for a baby's room can usually be accomplished when set at around 72 degrees Fahrenheit. This creates a cool enough environment to aid in your baby's restful sleep. Along with having the right temperature set on your air conditioner, you should make sure to dress your child accordingly when in the room. Too many or not enough layers can make your child hotter or cooler than you intended while they're in the room with the air conditioner.
Place Babies Away from Direct Airflow
An air conditioner will do well in your baby's room for cooling, but where you place your baby at night is important. Just like adults, babies are subject to harsh temperature changes, and sleeping directly in front of an air conditioner won't be in your baby's best interest.
To make sure that putting an air conditioner in your baby's room is a good choice, you should be thoughtful about where the crib or bed is. Keeping it away from direct airflow doesn't mean that it won't get the benefits of the cold air. The air conditioner should be able to successfully cool the entire room, not just the area directly in front of it. Placing your child outside of the direct airflow will prevent them from experiencing any excessive chills during the night.
Keep a Door Open
When you have an air conditioner in a baby's room, it's best to keep a door open. It may seem like it defeats the point of keeping the room cool, but having a door open can create a few other benefits for your baby. When the weather is really hot, keeping a door open can allow space for the humidity to leave the room. Leaving the humidity trapped in a closed-off room, even with the air conditioner on, can decrease the efficiency of the air conditioner. With the door slightly cracked, the humidity will be able to escape the room and allow your baby to continue to enjoy the temperature you intended for the room.
Have Regular Maintenance Performed
All air conditioners should have occasional maintenance done on them to ensure they're working properly. Just like a car, they benefit from being checked out and tuned up every once in a while. This is especially true for air conditioners that will be in a baby's room. Your air conditioner needs to be reliable, and you need to make sure that the air being circulated into the room is of good quality. Having maintenance done on occasion can help you to prevent any issues from happening beforehand.Keeping up with regular maintenance can feel like a hassle, but it doesn't have to be. Entek offers planned maintenance programs to customers, which provides additional discounts and benefits, along with keeping track of when your unit needs maintenance. Things like equipment, warranty information, and maintenance appointments are all taken care of by the professionals at Entek with this program. With it, you can also enjoy having lower energy bills, fewer emergency repairs, and comfort in knowing the air conditioner in your baby's room is well taken care of.
---
Related Posts