Cheap Wall Heaters Are More Expensive Than You Think
One of the best things about living here in the Pacific Northwest is it's never too cold in the winter or too hot in the summer. Sure, we may have days when the temperatures drop into the teens or a few days when it creeps toward three digits, but these are few and far between. Portland is a great place to live comfortably year round.
But that doesn't mean we can live without heat. Temperatures still hover in the thirties and forties for weeks at a time. And while your home may keep you warm, safe and dry, having a little bit of heat to take the chill off is something few of us are willing to live without.
What heating system does your home currently rely on? For many throughout the Portland community, the answer is a wall heater. But how efficient are they really?
A quick look at your utility bill will tell you that your wall heater takes up the biggest portion of your monthly bill – sometimes as much as 44 percent of the total cost. Costs continue to rise. Your electricity expenses increase every year.
Isn't there a better way? Our HVAC contractors will tell you there is.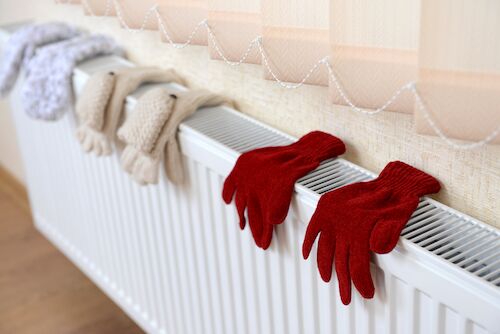 How Efficient Are Wall Heaters?
Wall heaters are inefficient at best. Electric wall heaters contain electric heating elements enclosed inside metal pipes and controlled by thermostats in every room. You'll usually find them installed under windows, so the rising warm air will counteract with the cool air seeping through the windows. These units must be placed under the windows to ensure they work properly and must be fitted perfectly to avoid heat loss that can occur between the unit and the wall.
The quality of these wall heaters varies greatly, but even top quality models can still be noisy and provide poor and inconsistent temperature controls. They are usually hot to the touch, which can bring about additional problems if you have children and pets. And unless you have a humidifier in place in addition to your wall heater, it will quickly dry out your air, which can lead to raw, scratchy throats, itchy eyes, and even bloody noses.
While wall heaters may seem easy to install, they do require a little more care to ensure they are properly placed in your home. They require extra insulation to ensure they are as efficient as possible.
It's also important to watch the placement of a wall heater. Thick carpeting or rugs can impact the efficiency of the heat supply. While it may appear as if heated airflow is directly flowing out of the unit, it is circulating all around. Heaters need to be at least three-quarters of an inch from the ground, and shouldn't be blocked by carpets or rugs to ensure proper airflow.
You should also watch the placement of drapes and curtains. If window coverings fall in front of your heaters, not only will they impact airflow, but they can also cause problems with the operation of your unit.
Why Heat Pumps May Be A Better Choice
Do you still think wall heaters are a good choice for your home? Looking for other options? Ask our professional HVAC contractors about heat pumps.
A ductless heat pump is a highly energy efficient heating and cooling system that operates without the energy losses associated with traditional central gas forced air systems that use ductwork for ventilation. And because they don't require ducts to operate, they can be added and integrated into any home, large or small, and improve the efficiency of how conditioned air flows through your rooms.
Like any technology, the inner workings of ductless heat pumps have changed significantly over the past few years. Under the right conditions and in the right geographical locations, ductless heat pumps are one of the most efficient heating systems available for your home. Here in Portland, whether you're building a new home, replacing an existing heating system, or simply wanting to make your home more energy efficient, heat pumps may be the way to go.
Heat pumps work well in the Pacific Northwest climate
Depending on the heat pump you select, some systems offer as much as 100 percent heating capacity at a temperature as low as 5° F outdoor ambient, with high performance continuing all the way down to -13° F outdoor ambient. They offer higher efficiency ratings than boiler-based systems, and ductless heat pumps cost less to operate than other heating system alternatives.
Heat pumps offer an easy way to integrate air conditioning into your home
While heat pumps may be easiest to add to new construction projects, heat pumps are also a good option to integrate into existing homes to either replace or complement existing heating systems. For instance, if you use radiant heating, heat pumps are a good addition to circulating heated air to keep you warmer and more comfortable. And if you choose to add air conditioning to a pre-existing home, heat pumps are a great choice.
Heat pumps help keep your home clean and bacteria-free
Most ductless heat pumps are equipped with filter systems and self-cleaning functions that work on keeping bacteria and spores at bay. If they don't settle, they can't build. Which means they'll help your home have better indoor air quality. Incoming air is purified in several steps. The heat exchanger is covered with a large plastic filter and has filter collectors, both of which can be cleaned with soapy water. The system also comes with an internal fan that ensures the heat exchanger dries completely, eliminating any risk of bacterial growth.
Heat pumps are more expensive than other types of heaters
Costs vary greatly in all types of heating and cooling systems. Heat pump costs depend on a variety of factors: efficiency, the condition of the equipment, the location of the equipment, energy type, climate, weather, family demographics, insulation of the home, etc. Study after study shows that bringing a heat pump into your home can save you money, even up to several thousand dollars a year in energy costs in some cases. And because you may also qualify for a rebate that is currently available to homeowners across the Pacific Northwest, it makes installing a heat pump in your home even more beneficial. It's a win/win all the way around.
It's easy to find out how beneficial a heat pump would be in your home; our Portland HVAC contractors can show you how. Contact us today.
---
Related Posts