What Is a Mini-Split Heat Pump and How Does It Work?
If your home is in need of a heating and cooling unit, you've probably considered a variety of options. Air conditioners, heat pumps, and furnaces are some of the most popular ways to heat your home, but in your search, you may have come across mini-split heat pumps.
If you're wondering what a mini-split heat pump is or how it differs from traditional heat pumps, you're not alone. Though different in some aspects, a mini-split heat pump has tremendous benefits depending on the size and age of your home and your specific heating needs. Their technology is advanced, and they can be a beneficial and cost-effective option for your home.
With over 20 years of experience dealing with mini-split pumps and over 70 years in the HVAC business, Entek has learned the ins and outs of home heating and cooling and can answer your mini-split heat pump questions confidently.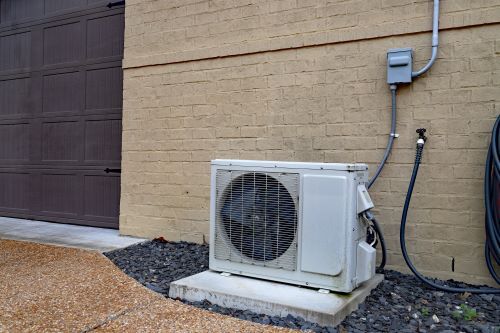 What is a mini-split heat pump?
Though "mini-split heat pump" may sound foreign to you, there's a good chance you've seen one before. A mini-split heat pump is another name for a ductless heating and cooling system. They serve the same purpose as most heating and cooling units, but they don't require your home or building to have ductwork, and they're usually used to warm or cool just one room or space.
Mini-split heat pumps are made up of two components: an outdoor compressor/condenser and an indoor air-handling unit. The indoor unit is relatively small and is placed high on the wall or even on the ceiling. The compressor/condenser is located outdoors and is much smaller than a traditional heat pump. Together, they work really well to heat and cool small spaces.
How does it work?
The process that a mini-split heat pump goes through to heat and cool your home is pretty simple. The unit uses refrigerant to transfer heat energy between inside and outside. In the summer, the heat in your home is absorbed by the refrigerant and then transferred out of your home. In the winter, the heat pump works in the opposite way, using the refrigerant to absorb the heat it can find outside and then transferring it into your home.
The indoor air-handling unit is placed in the room of your choosing, usually at the top of a wall close to the ceiling or above the line of sight. But Entek has designed a variety of different installation methods to meet customers' specific esthetic needs, as well as physical capabilities. While high wall installation is standard for the indoor unit, low floor and hidden attic space installation can also be done. The outdoor unit can also be customized, as it can be wrapped in insulation and hidden inside of a paintable conduit track, making a finished look easy to accomplish.
The unit typically hovers above the room or space you're in, but you don't have to worry about it creating an abundance of extra noise. Whisper Quiet Technology is used so that the unit is discreet, making little to no sound, and won't disrupt you or your family.
With the help of an HVAC professional, your home can be sectioned off into zones to optimize the efficiency of your unit. They can provide a complimentary analysis of the square footage of your home, the number of rooms, the air quality, and your overall comfort preferences. Once your ductless system is installed, you'll have a convenient wall mount control or hand-held remote to control your system.
What are the advantages?
One major advantage of this unit is that it doesn't require ductwork. Ductwork can be costly to install, and with the help of a professional, a mini-split pump installation can be done quickly and efficiently. Not having ductwork also prevents home and business owners from having to pay for maintenance on ductwork, like duct sealing or duct cleaning.
With larger heating and cooling units, you may have to move or remove furniture to accommodate them. They can also just create an eyesore in the room, especially if you're living in a smaller area. An upside of a mini-split heat pump is that the indoor unit can be placed high up on the wall, making it unnoticeable to most people and also not taking up any extra usable space.
Another advantage of mini-split heat pumps is that it's a great solution to home remodels and room additions. Extending existing ductwork can be costly and time-consuming, and adding this type of heating system can be a quicker and more efficient option.
Who needs one?
A mini-split heat pump isn't for everyone. Though they're small and cost-efficient, they make more sense for some homes than others. Usually, people look into getting a mini-split heat pump if they have a small home, have a difference in temperature preferences within a home, or have a home that doesn't have ductwork installed already.
If your home is on the smaller side, a mini-split heat pump may be all you need to heat and cool your home. Its ability to heat one room or space individually may prove a better option than incorporating a larger system into your home. It's also a great option for older homes that don't already have ductwork in them. You'll save money by not having the ductwork installed but still accomplish the goal of having your home well heated.
This is also a great option for a larger home with residents who prefer living in different temperatures. With a traditional heat pump, your thermostat will control the temperature for the entire unit, and therefore the entire home. But some people are more comfortable living in cooler temperatures, and that can be easily achieved when you have a mini-split heat pump. With this type of heat pump, you can place a separate one in each room or in spaces people frequent more than others.
---
Related Posts