How Window Leaks & Treatments Influence Your HVAC Efficiency
When you think of HVAC efficiency, you likely don't think of window treatments. But perhaps you should. Window treatments can go a long way in improving your home's energy efficiency. Likewise, window leaks can cause your energy cost-savings to go right out the window.
Luckily, Entek has some solutions for you. We'll explain how your home's performance may be impacted by window leaks and what you can do to fix them.
In order to properly air seal your home, you'll first need to identify where your home's air leaks are. The best way to measure your home's air leakage is to hire a certified technician to conduct a home performance energy test.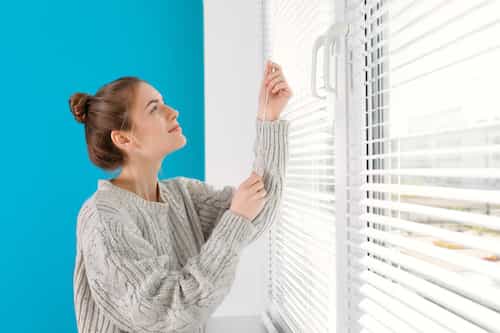 At Entek, we perform a computerized test using a blower door test in which a powerful fan blows air into or out of your house. This test helps our trained professionals identify areas of air leakage within your home and assess what areas of your home would benefit from air sealing. The home performance test will also assist us in locating areas of your home that require more insulation.
Once we've identified areas of your home that are compromising your HVAC efficiency, we can address the problem in a way that optimizes your home's overall energy performance. Air leakage can lead to moisture problems that affect a structure's durability, as well as the overall health of your household. Therefore, finding a proper solution to the problem will enhance your family's overall comfort, improve your home's indoor air quality, and of course, optimize your HVAC efficiency.
Once we've determined where the air is infiltrating into your home, we'll provide high-quality air sealing services. Our skilled technicians will ensure your air leaks are eliminated and that your HVAC system is performing at maximum efficiency.
In addition to sealing air leaks, another way to improve your home's overall energy performance is by installing quality window treatments. There are multiple benefits to using window treatments in your home, such as improving HVAC efficiency and lowering heating and cooling costs. According to the Department of Energy, about 30% of a home's energy is lost through the home's windows. That means you're spending money on energy you're not even able to use.
So what kind of cost-savings will you get from installing window treatments? That depends on a variety of factors including season, climate and treatment type, as well as how the treatments are used. However, the Department of Energy provides a good foundation for understanding which window treatments might be the right type for you.
Let's take a look at some of them here.
Insulated Cellular Shades
There are a variety of interior and exterior window treatment options available. Insulated cellular shades are a popular type because of the many benefits they provide. Insulated cellular shades are interior window treatments that fold up in an accordion-style manner. These shades offer significant energy savings while also providing privacy and increasing home comfort levels. They also have the added benefit of increasing a home's resale value and are therefore a solid overall investment.
So what makes insulated cellular shades an attractive option? For starters, during the colder months, this type of window treatment has the potential to reduce heat loss through windows by up to 40%. Translation? You'll save about one-fifth of your energy costs during wintertime by using them.
Likewise, you'll also see cost-savings during the warmer months of the year. Insulated cellular shades can reduce the amount of solar heat penetrating your windows by up to 80%. Quilted window blinds are a good alternative option for those looking for a more affordable option. Learn more about both types of window treatments here.
Draperies
Good old-fashioned draperies can also do much to reduce solar heat gain. Their effectiveness at improving a home's energy performance is dependent on a variety of factors, such as material and color. However, research has shown that medium-colored draperies with white-plastic backings can reduce heat gains by as much as a third. Likewise, in the wintertime, most standard draperies will reduce heat loss by up to 10%.
Window films can also be a good option if you want to avoid blocking views or if you have artwork, furniture, and other belongings that you wish to protect from damaging UV exposure. Window films also come with energy performance ratings that help you understand how effective the treatment is at blocking heat gain.
Exterior Window Treatments
Exterior window treatments are an option as well. Awnings, for instance, can be installed on the home's exterior to protect windows from the sun's heat and glare during the summer months. In fact, awnings can reduce solar heat gain by as much as 77% on west-facing windows of your house and as much as 65% on your home's south-facing windows.
A light-colored awning is an ideal choice since it will reflect more sunlight. Though awnings are effective at increasing home energy performance during the summertime, it's important to keep in mind that awnings can increase energy use during winter. Therefore, you should remove or open awnings during the winter months.
Sealing windows and purchasing the correct type of window treatment can increase your HVAC efficiency and maximize your cost-savings. Unsure which window treatment is right for you? At Entek, we can make recommendations on what specific services and products will optimize your home's overall energy performance.
To get started, contact us for a home performance energy test, which can lead to a 30% reduction in your home's energy costs.
Tired of letting your money go out the window? Give us a call and we'll keep energy inside your home while also keeping money inside your wallet.
---
Related Posts