Air Scrubber Plus Will Help You Breathe Easier All Year Long
Your home's indoor air quality is incredibly important. However, many people don't realize how they can improve it. Here at Entek, we strive to bring our clients the best in home air technology. And for improved indoor air quality, the Air Scrubber Plus is unmatched. Read on to learn more about the Air Scrubber Plus and its benefits.
How Can My Indoor Air Make It Harder to Breathe?
Indoor air can contain many pollutants and contaminants. These include dirt, pet dander, pollen, debris, allergens, chemicals, viruses, germs, odors, and toxins.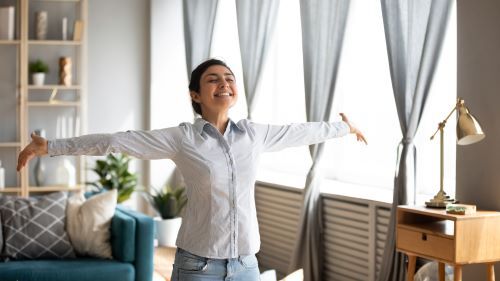 When these contaminants make their way into your home, they can cause what's known as sick building syndrome. This means the building you are in negatively affects your health. This is very common in homes, so you'll want to do whatever you can to purify the air you breathe.
You're likely not even thinking about the indoor air pollutants you and your family are bringing into your home. But when you come home from work, school, another house, soccer practice, and so forth, you bring in those contaminants. And they make it harder for everyone in your home to breathe.
What About Odors in the Air?
Many contaminants go unnoticed. But you can absolutely sense others—especially odors—lingering in the air and impacting your ability to breathe easily. The Air Scrubber Plus helps with common household odors, such as pet dander, mold, mildew, burnt food, cigarette smoke, and paint fumes. It doesn't just cover up the smells like an air freshener; it eliminates them.
Indoor Air and Allergies
At certain times of the year, your indoor air quality is even worse. For many households, poor indoor air quality aggravates the already difficult allergy season. Pollen, dust, dander, and other irritants worsen symptoms, including itchy and watery eyes, headaches, and sneezing.
The Air Scrubber Plus really makes a difference throughout the allergy season and beyond.
How Does the Air Scrubber Plus Help With Indoor Air Problems?
The Air Scrubber Plus reduces many kinds of pollutants, both in the air and on surfaces, using proprietary light waves and a specialized catalytic process. In doing so, it makes it easier to breathe in your home and reduces the risk of sick building syndrome.
The Air Scrubber Plus works quickly. Soon after it's installed, you'll notice the difference. In just 30 minutes, it greatly reduces the contaminants that make it harder to breathe. And within 24 hours, pollutants on the surfaces in your home are also significantly diminished.And once installed, the Air Scrubber Plus will continue to make your home contaminant-free, working 24/7 to remove pollutants and prevent buildup.
How Can I Trust the Air Scrubber Plus Will Give Me the Indoor Air Quality Results I Need?
The Air Scrubber Plus has been tested and proven by Kansas State University to make your home's indoor air much easier to breathe.
Rigorous testing has shown that Air Scrubber Plus reduces surface micro-organisms that negatively impact indoor air and your ability to breathe easily. The KSU research showed it reduced staphylococcus, E. coli, MRSA, anthrax, streptococcus, and black mold by about 99 percent. These surface contaminants can make you and your family seriously sick.
With results like these, it's no wonder families love it—the Air Scrubber Plus has a 99 percent satisfaction rate from individuals who installed it in their homes.
What Makes the Air Scrubber Plus Better Than Other Air Filtration Systems?
Traditional filters, UV lights, and photocatalytic oxidation (a.k.a., PCO) can be helpful, but they simply can't compete with the Air Scrubber Plus. While traditional filters are great for trapping dirt and debris, they focus solely on removing contaminants in the air. The Air Scrubber Plus does this, but it goes above and beyond by reducing about 99 percent of those contaminants from surfaces as well. It's also the only system with an active particulate reduction, and it's the only one to be studied by a university.
Another one-of-a-kind aspect that sets apart the Air Scrubber Plus is that it's a space-certified program—endorsed by none other than NASA. This technology was initially created to be used on the international space station. So, if it's good enough for astronauts, it will absolutely make a big difference in your home.
What Else Should I Know?
The Air Scrubber Plus is so impressive it comes with a 100 percent guarantee or your money back. Plus, it's made right here in the USA and complies with EPA, FDA, and OSHA regulations.
Is It Difficult to Install?
Not at all! The Air Scrubber Plus is easily attached to your existing HVAC system.
How Will It Affect My Energy Bill?
When reading about all the amazing things the Air Scrubber Plus will do, you may be nervous that it will require a lot of energy. But yet another great benefit of the system is that it's incredibly energy efficient.
The Air Scrubber Plus only requires 18 watts of energy. That's much less than a standard lightbulb. So, not only will your energy bills be affordable, but it's also a great choice for the environment.
Installing the Air Scrubber Plus will do wonders for your indoor air quality. But it isn't the only action you should take. Be sure to keep up regular maintenance for your whole HVAC system. We recommend a technician inspects it at least once a year. For the best HVAC maintenance and service, turn to Entek.We've been serving the indoor air quality needs of the Pacific Northwest area for over 75 years. You can trust our experience, expertise, and recommendations. Contact us if you have any questions about the Air Scrubber Plus or indoor air quality in general. You can also find more information by visiting our air quality page.
---
Related Posts