The ENTEK whole-house philosophy:
Our trained and certified building performance specialists are experts at putting the pieces of energy efficiency and comfort together for you. We understand building science, and how to make every improvement work together. This delivers significantly more savings than individual improvements alone, and can maximize the efficiency of your entire house.
1

Safety:

Assessing the safety of a home is an important part of a home performance contractor's job. Back-drafting appliances that may be sending carbon monoxide into the home, unsafe levels of formaldehyde from building materials, mold, mildew, and radon are all potential safety issues that our home performance specialists are trained to address.

2

Health:

Indoor air quality is listed by the EPA as one of the top environmental threats to human health. Our job is to ensure that your home's indoor air quality is not a threat to you or your family's health.

3

Comfort:

Your home is your sanctuary. It should be comfortable and pleasant to live in. Do you have drafty rooms, cold spots, unpleasant humidity and heat in the summer? Is poor quality lighting or incandescent lighting that creating unnecessary excess heat in the summer? As a home performance contractor, ENTEK can help you identify and solve problems to make you more comfortable and save you money.

4

Durability:

Imperfections and deficiencies within a building can lead to expensive ac unit repairs down the road and cause discomfort and health concerns that can have long-term consequences. Poor ventilation creates moisture problems contributing to mold, mildew, health concerns and framing rot.

5

Efficiency:

Home performance is about ensuring that a home is cost effective to live in. If a mechanic told you that a few simple improvements could drastically improve the fuel efficiency of your car, that's something most of us would jump on. Our job as a home performance contractor and HVAC specialist is to bring your home up to peak performance.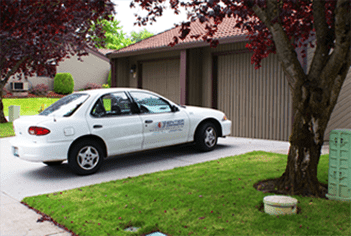 With ENTEK, our building science specialists Home Performance philosophy uses science to bring more comfort and efficiency to your home. It's the whole-house solution that analyzes your home and identifies energy saving improvements and air quality issues. As a result, your entire home becomes more comfortable, more efficient, more economical and more safe.
ENTEK is the leading, locally owned Heating and Air Conditioning Company.
For Fast Service Call
(800) 633-1354
Or call any location:
| | |
| --- | --- |
| Longview: | 360-423-3010 |
| Portland: | 503-220-1985 |
| Vancouver: | 360-883-5462 |
Testing the Science:
As a building performance contractor, we understand how to use the latest building science and testing methods. That's key, because it leads to dramatically increased efficiency and comfort for the life of your home. Here are some of the tests our BPI Certified building science professionals use to evaluate your home's efficiency during a home performance assessment:
Blower Door Test

A powerful fan blows air into or out of the home, forcing air through all the small holes, cracks, and penetrations. This test measures costly air leakage through your home's outer walls, ceiling, windows, doors, and floors. This reveals areas where sealing is needed.

Duct Pressure Test

This test uses a small fan and a pressure gauge to measure leaks in your home's heating and cooling duct system. We can identify, provide a detailed computerized test and seal up costly leaks.

Infrared Camera

An infrared or thermal imaging camera allows Home Performance contractors to see what's happening "behind the walls." The camera makes it easy to spot temperature differences that indicate how your home's insulation is functioning, and helps pinpoint air leaks.

Air Test and Balance

The air flow hood measures the amount of air that comes out of the heating or cooling system registers or vents when the system is operating. This test helps rate system performance to improve efficiency and airflow.
ENTEK Energy Solutions
After the completion of your Home Performance Assessment, your ENTEK specialist will go over the test results and present suggestions and solutions to bring your home back to a homeostatic state of comfort and energy efficiency. Because every home is unique, it is extremely important to have solutions that are based on the science and testing of your home. Some solutions may include:
Seal Air Leaks and Add Insulation

The critical first steps will improve efficiency and make your home more comfortable in all seasons.

Improve Heating and Cooling Systems

If your furnace or air conditioner is more than 10 years old, your contractor may recommend that you replace it with a more efficient ac unit that has earned the ENERGY STAR® label.

Repair Ductwork

The condition of your home's ductwork has a direct impact on comfort and energy efficiency. That's why it is vital to seal leaks, make sure ducts are straight and properly connected, and insulate where needed. Sealing your ductwork from inside with the patented Aeroseal process can ave you up to 40% oon utility bills.

Upgrade Heating System

Furnaces have become increasingly intelligent and extremely efficient. Chances are, if you have a 15 year-old furnace or older, you could cut your energy use by over 25% by upgrading to a new 98% efficient furnace.