How Do I Determine Overall Forced-Air Furnace Cost?
There are many ways to heat a home, but the forced-air furnace remains the most common in North American countries. There's a good reason for this: forced-air furnaces provide a number of advantages over other heating methods and are particularly good in areas where the temperature regularly drops to below freezing.
Of course, if you're living in a home that doesn't already have a central heating unit, or if you're in the market for a new furnace, you're probably considering the cost of having a forced-air furnace installed. It's not possible to simply quote a price, of course. There are many variables in play that affect the cost. Determining how much you can expect to pay requires careful consideration of these variables. Read on to discover how to determine the overall forced-air furnace cost:
What Is a Forced-Air Furnace?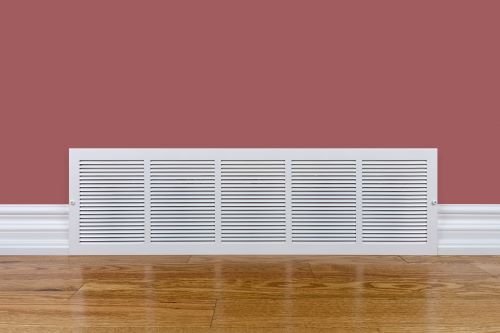 We've mentioned that forced air is the most common method of heating homes in North America. There are many reasons for this, which we'll get to later in this article, but first, an explanation of what exactly a "forced-air furnace" is.
The name itself accurately explains what this type of furnace is. A central unit somewhere in the home heats the air circulated through it. That air is then "forced" using fans through a series of ducts and vents into every room in the home, heating it up during the coldest days of the year.
The key element of a forced-air furnace is the central heating unit—the furnace itself—of which there are several types. The heat is provided by burning some sort of combustible fuel source. This can be propane, natural gas, oil, or wood. Electrical furnaces are also available. Which fuel source you choose to use will depend on what's available to you, and will, of course, affect the final cost.
The Benefits of Forced-Air
Forced-air furnaces have a number of advantages over other methods of heating the home. Chief among these are their speed, efficiency, and comparatively low cost. Utilizing an inexpensive fuel source, such as natural gas, will allow your home to achieve the desired temperature much more quickly than with other methods. During extremely cold winter days, this can be critical. The high heat and inexpensive fuel sources also make for an extremely efficient heating method: you won't have to leave the heater on for long in order to get your home to a comfortable temperature.
Factors That Affect the Cost
While forced-air furnaces are known for their affordability, their cost and the cost of their installation can vary wildly due to a number of factors. One major factor that affects the cost of installation is whether your home has existing ductwork. Most older homes have a system of ducts in place that your HVAC installer can easily connect your new furnace to. Newer homes may not have the same infrastructure available.
Even if your home doesn't have a system of ducts and vents already in place, you can opt to have a professional HVAC company install them for you. Note, however, that this can prove to be expensive. Contact your HVAC professional at Entek to get a quote on duct installation.
The cost of your new heating system will also be affected by the fuel source you choose to use. For example, natural gas is one of the most inexpensive fuel sources out there, but the price can go up if you don't already have a gas main hooked up to your home. If you still want to utilize natural gas, simply contact your local gas company and request an installation quote for a gas main.
If you wish to utilize another fuel source and don't want to shoulder the cost of installing a natural gas or propane line, you can also consider an electrical furnace. Electricity, of course, is readily available to most homes, although it does tend to cost a bit more for heating than other fuel sources. The fuel source you choose will also affect your final price.
The Cost of Installation
Once you've consulted with your HVAC professional and determined what fuel source you wish to use—and if you need to have ductwork installed—you can start considering the cost of installation itself. This is usually one of the biggest expenses that affect forced-air furnace costs, and the ultimate price tag will depend on the size of your home and the type of heater you've selected.
The price of the furnace itself can be hefty: you'll want to do a bit of shopping around. The average cost tends to hover around $800 for a unit. The installation then costs about $500. These costs will vary depending upon where you're located and, as previously mentioned, if you need ductwork or gas piping installed. Ultimately, the basic cost of purchasing a furnace and having it installed will be approximately $1,300–$1,600. Gas furnaces may cost a bit more, with the system itself sometimes running as high as $2,900 and the installation being up to $1,500. After the installation, however, the monthly and annual costs may prove to be lower than with other methods.
The Yearly Costs
Installation, of course, is only the beginning. After you've shelled out the money to buy the furnace and paid to have it installed, you'll now have to consider your monthly heating bill. The amount of this bill depends upon the fuel source you've chosen and the costs in your area. Oil is usually the most expensive, followed by electricity. The least expensive fuel sources are propane and natural gas.
The yearly cost also depends upon the size and square footage of your home and the climate in your area. Very cold areas, of course, will cost more to heat, as will larger houses.
Maintenance should also be a factor when trying to determine the ultimate forced-air furnace cost. As with any other piece of machinery in the home, you'll want to have your furnace regularly serviced by a qualified technician. A reputable company, such as Entek, will offer a regular maintenance plan that keeps your heater operating effectively for many years.
---
Related Posts