How Do You Protect an Air Conditioner in the Winter?
Your air conditioner is a hard-working marvel of engineering. With it, you can wait out even the most brutal of heat waves in the comfort of your home. But as we near the end of summer and begin to look forward to fall, you'll want to start thinking about how to keep it safe through the winter. It might feel preemptive, or even unnecessary, to worry about your air conditioner surviving the cold, especially as temperatures stay high.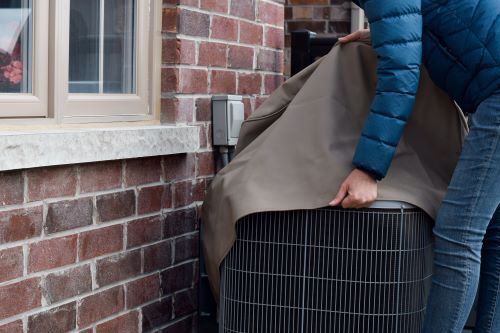 Still, even if you aren't actively using it, cold weather can damage or corrode your air conditioner. By planning carefully, you can make sure it's ready and raring to go once the spring rolls back around. Here are some tips to help you answer the question, how do you protect an air conditioner in the winter?
Cut the Power
When you feel like the days are getting shorter and your old faithful air conditioner won't be seeing any use in the next few months, the first thing you'll want to do is cut the power. To do this, you'll need to find the electrical circuit on the unit. Once you have, remove the outer lid and flip the switch to turn off the power supply.
While a lot of people just adjust their thermostats once the winter rolls around and trust their air conditioner will be fine, it's actually better in the long run to cut power entirely. This is for a few reasons. Firstly, it will prevent the unit from switching on if you have an unseasonably warm day or accidentally adjust your thermostat in the wrong direction. While obviously not great for your indoor environment or power bill, this can also draw more moisture into the unit and increase the risk of rust or mold.
Secondly, it will make some of the next steps you'll need to protect your air conditioner in the winter safer for you to handle on your own.
Clean and Maintenance the Unit
Like anything left outdoors indefinitely, your air conditioner can get pretty dirty. With plants growing around it, grass clippings slipping their way inside, and bugs making their homes along it, things can get pretty dire. And once leaves start falling come September? Forget about it. It may be a big task, but cleaning up your unit ahead of time is one of the best ways you can protect an air conditioner in the winter.
Clear away any debris from around the outside of your unit and give the condensing coils and fans a good wash with a hose. Ensure that all pieces are entirely dry before you place them back in the unit. Take this time to also look for any rust that needs cleaning or cracks that need sealing, and reach out to a trusted HVAC technician for any serious maintenance the unit may need.
Add Insulation
What's something that every homeowner has to worry about each winter? If your first thought is how you're going to fit all your extended family in your dining room even though your table only sits six, you're not wrong, but we're talking about your pipes. Ensuring your pipes have adequate insulation to survive the winter chill is crucial to avoiding costly repairs, and your air conditioning unit is no exception.
Once you've cleaned up your unit, install either rubber or foam insulation around its pipes. Make sure the seal is tight, and place your elbows and tees first so the insulation is as snug as possible. Even if you're not using it, you want to make sure the pipes in the unit don't suffer any damage from freezing water.
Cover the Unit
Air conditioning units are built to withstand the elements, but it never hurts to shore up their defenses to make it through the fall and winter. Adding a cover is a great way to protect an air conditioner in the winter, giving it a shield against falling ice, leaves, and other debris. You should not, however, just throw any old tarp over your air conditioning unit and call it day. The wrong kind of cover might allow moisture to accumulate underneath or provide a safe home for an animal during the winter weather.
Instead, we recommend you find a purpose-built cover. They are waterproof and designed specifically to guard your unit against Mother Nature while also allowing it enough room to breathe. Failing that, a weighted piece of plywood placed across the top of the unit will still go a long way in keeping out the weather.
However you manage it, keeping the unit shielded from the worst of the cold is one of the best ways you can protect an air conditioner in the winter. You won't just be avoiding potential repairs come the spring; you might just be extending the lifespan of the unit.
Keep it Clean and Clear through the Cold
Alright, so you've put in all the effort to clean and secure your air conditioner for the winter. All that's left now is to keep an eye on it to make sure it stays cozy. Keep the top of the unit clear of more leaves, twigs, branches, and other natural debris. Clear away any snow, ice, or accumulated puddles of water. You'll keep the unit clean as well as prevent any built-up materials from putting undue strain on the frame of the unit.
Make sure the lid is still secured tightly, and check to see if any moisture is getting through. By incorporating regular inspections into your weekly routine, you'll be able to catch any problems before they become serious. If you want to go the extra mile, or if you just want an extra set of eyes to make sure you're all set, you can always reach out to an experienced HVAC company like Entek for a professional assessment before the worst of winter sets in. HVAC technicians will be able to take a look at your air conditioning unit, spot any potential problems, and get you all set and prepared for the winter. They can also give you advice on how to best winterize your air conditioning unit, as well as any other systems your home might have. Having an expert on your side can make all the difference in your home's HVAC.
---
Related Posts