How Often Does My Furnace Need To Be Serviced?
To ensure your home stays comfortable, you count on your HVAC system to consistently provide optimal temperatures. Especially when the weather outside gets extreme. Once it starts to get colder, you'll need the furnace to effectively provide heat. One of the most important steps to ensure this is to keep up with maintenance for your furnace. Not doing so could lead to serious problems later on, due to excess debris and undetected issues. But how often should you have your furnace serviced to make sure this doesn't happen? Read on below to find out more.
How do I know how often my particular furnace should be serviced?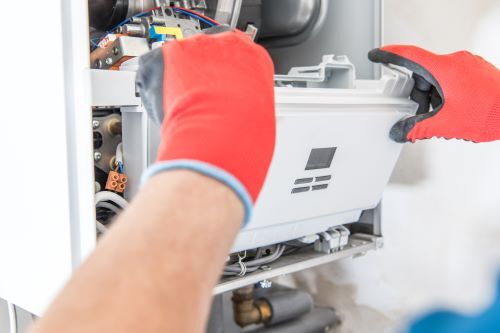 How often your furnace needs to be serviced can depend on what kind of furnace you have. For instance, it may make a difference if it's an oil or gas furnace. It can also vary depending on your climate and how hard your system works. Also, keep in mind that no two houses are exactly alike, so each household may have different furnace service needs or issues.
As a general rule, however, your furnace should be serviced at least once a year. But to be extra cautious, having your furnace serviced twice a year is ideal.
One of the factors that could influence how often your furnace needs to be serviced is the age of your system. If your furnace is a newer model, once a year will probably be enough. Some people with newer furnaces might just get theirs serviced once every other year. However, that can be risky.
But if the furnace is older, you probably want it to be serviced more often. If it's at least 10 years old, an annual checkup is absolutely necessary. And this is a case where you might want to bump up the service up to biannually. After all, it's always better to be safe than sorry. And with an older model, something that seems like a small issue can end up causing some huge problems. These could lead to major, and often expensive, repairs or even the need to replace the furnace.
You shouldn't skip this service, even if your furnace seems to be working perfectly. This service is preventative maintenance that will really pay off in the future. You never know if there could be a problem with your furnace that only an expert is able to detect.
When should I have my furnace serviced?
You may be wondering if there's a particular time of year that would be the best. A typical recommendation is during the fall. This is because the furnace hasn't been used in a while, and you want to make sure everything is fine before you really depend on it in the winter.
Spring, after your furnace has been used a lot for a period of time, is also a good time for service. So if you decide to have your furnace serviced twice a year, scheduling it for every fall and then following up in the spring is a good bet.
What does this service for my furnace entail?
Your furnace is a complex system full of different moving parts, so you'll want to be sure they're all working. When you get your furnace serviced, you can rest assured that the expert technicians will thoroughly check all of them. The technicians know which problems to look for that are specific to the individual parts. For instance, the heat exchange will be checked for any rust, and the drainage system will be checked for any leaks or blockage. And the blower door will be tested to see if it's still strong enough or if it needs more sealing. Different companies will have their own specific methods of making sure everything is working properly.
What are the benefits of having furnaces serviced regularly?
Regular service doesn't just reassure you everything is working okay. It can also help you avoid hazards to your health. If not checked on, a carbon monoxide leak could happen, which is incredibly harmful. Carbon monoxide cannot be smelled or seen, so it's not something you would notice on your own. But regular service helps prevent this.
Poorly maintained furnaces have to work much harder, using a lot more energy, to keep providing heat. So regular service makes the furnace more energy-efficient overall. This means it can also save you money by reducing heating bills.
Another way it can save you money is by taking advantage of warranties. If there's a problem with a certain part, the technicians will check if it's still covered under a warranty. Annual or biannual service makes this possibility more likely. If you put off service for a while, and then the warranty runs out, you may regret not getting service sooner.
It also relieves the worry that you could lose heat during extreme winter weather conditions. You don't want your furnace to break down at the worst time. Neglecting service for your furnace is a very common cause of homes having furnace issues on the coldest winter days.
Plus, keeping up with maintenance will make the furnace stay in good condition for a much longer time. Replacing a furnace can be expensive so it's not something you want to do too often.
What service can I do for my furnace on my own?
Another service your furnace needs is its filters changed. Leaving a dirty filter will make it more difficult for your furnace to keep working properly. This causes debris buildup that can lead to serious issues. How often the filters in your furnace need changing also depends on the type of furnace. Typically, filters should be changed every three months, but you should check them monthly. This is an incredibly simple step that can make a huge difference.
Now that you know how often to service your furnace, it's time to decide who you'll trust to take care of it. Turn to us here at Entek for the best quality service. Entek is the longest-serving Carrier dealer in the Pacific Northwest area, so you can trust that we have a great amount of experience and expertise. We also provide a number of services, such as duct cleaning and sealing. And if ever necessary, we have emergency service available 24/7. You can find more information about Entek on our website.
---
Related Posts