What Are the Requirements for HVAC Technician EPA Certification?
Are you interested in becoming an HVAC technician? Or are you a customer who wants to be informed of the rules, regulations, and training any HVAC technicians have to follow? Either way, at Entek, we have the answers to your questions. Read on for more information about the requirements to receive HVAC EPA certification.
What Is HVAC EPA Certification?
This is a certification that is required by the federal government. Anyone who plans to maintain, repair, install, or dispose of an HVAC system and its associated machines would need to get it. These certifications are required under Section 608 of the Clean Air Act.
Why is the EPA involved? Because machines like HVAC systems can potentially release refrigerants into the atmosphere. By receiving the certification, an HVAC technician proves that they know the proper way to handle these refrigerants.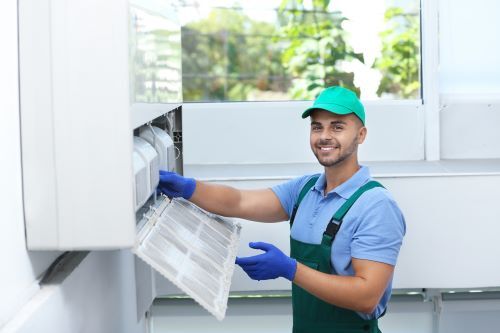 According to Section 608, there are a few things that can define an HVAC technician. This includes adding and/or removing refrigerant, as well as attaching and/or detaching gauges to measure pressure. There are different certifications and tests depending on the machines a technician intends to work on.
What Are the Types of EPA Certifications?
There are essentially four different types of EPA certifications that an HVAC technician can receive.
The first type (also known as Type I) is to be certified to provide service for small appliances. These appliances typically have five pounds or less of refrigerant. Machines covered by this type of certification include window air conditioning units, household refrigerators, and vending machines.
Type II is for servicing and/or disposing of high-pressure appliances. This excludes small appliances and MVACs. It includes residential air conditioners, heat pumps, and supermarket refrigerators.
Type III is for servicing and/or disposing of low-pressure appliances.
Finally, there's the Universal certification, which combines all of the above.
For all of these types, it's important to note that Section 608 describes "appliance" as any device that uses refrigerant for residential or commercial purposes. If a unit involves multiple circuits, each one of those is considered a separate appliance.
Do EPA-Certified HVAC Technicians Need All Types?
The short answer to this question is no. While many choose to go for Universal certification, it's not a requirement. The type of certification a technician gets will often depend on the individual's job and what that entails.
Testing Requirements
As with many types of certifications, HVAC technicians interested in being EPA certified will need to pass a test. The tests must be administered by an EPA-certified organization. There are different exams for the different machines that technicians wish to service, install, repair, dispose of, and so forth. The test contains about 25 questions per section. For Universal certification, the tests must be taken as a proctored exam instead of an open-book one.
Once this HVAC EPA certification is received, the credentials do not expire, so this means that HVAC technicians don't have to retake a test every few years.
What Do HVAC Technicians Need to Know to Pass the Tests?
The tests will vary depending on the types of certifications, but there are also some general facts about refrigeration that individuals will need to know for all the tests. This is covered in the tests' core section. Core does not count as its own certification, but test-takers must end up receiving a passing grade in this section in order to get Type I, II, III, or Universal certification.
Hopeful EPA-certified HVAC technicians will need to know about certain factors, including:
The impact of chlorine and different types of refrigerants on health, the environment, and the atmosphere
Specifics about the Clean Air Act, Montreal Protocol, and Section 608
How to define and identify specific refrigerants and equipment
Industry standards, regulations, and sales restrictions
Refrigeration states, cycles, and leak detection
Definition of the "Three Rs"—recover, recycle, reclaim
Every section of the test, including the core, will have questions about identifying refrigerants, shipping, equipment regulations, and such. Another very important part of the test is that each section has expansive and thorough questions about safety protocols.
By correctly providing the answers to these test questions, an individual proves that they know how to service HVAC systems in the best, safest, most environmentally friendly way. It also shows they have extensive knowledge about the machines themselves and about the EPA requirements. So, when an individual passes the test and earns the EPA certification, it means they will be trustworthy, efficient, and safe HVAC technicians with wonderful expertise.
What Scores Are Required to Pass?
This depends on where the test was taken. A proctored exam requires a score of at least 70 percent. A non-proctored, open-book exam requires at least 84 percent.
A test-taker does not have to pass all sections in order to be certified. But if an individual passes Types I and II but not III, that means they are not certified to work the jobs that require Type III.
If someone wants to add to their certifications later on, they can take the test for that specific type. Again, EPA certifications do not expire. This means they would not have to retake the sections they passed before. If an individual does not pass, they may be eligible for one free retake.
HVAC Technicians Must Keep Up With the EPA
While this certification doesn't expire, technicians still should make sure to retain this important knowledge. This also means technicians must keep up with EPA requirements for the future of their careers. Even if future laws, standards, requirements, and so forth differ from the ones on the certification tests. It's important to stay abreast of changes so HVAC technicians can continue to provide the safest services.You can trust that each one of our HVAC technicians at Entek are EPA certified. You can find more information about Entek by exploring our website. Check out more of our website's blog articles for all the information about HVACs you could want. With 75 years in business, as the longest-serving Carrier provider in the Pacific Northwest area, be assured that we know what we're talking about.
---
Related Posts